In the service of all
iGirouette at the service of the Smart City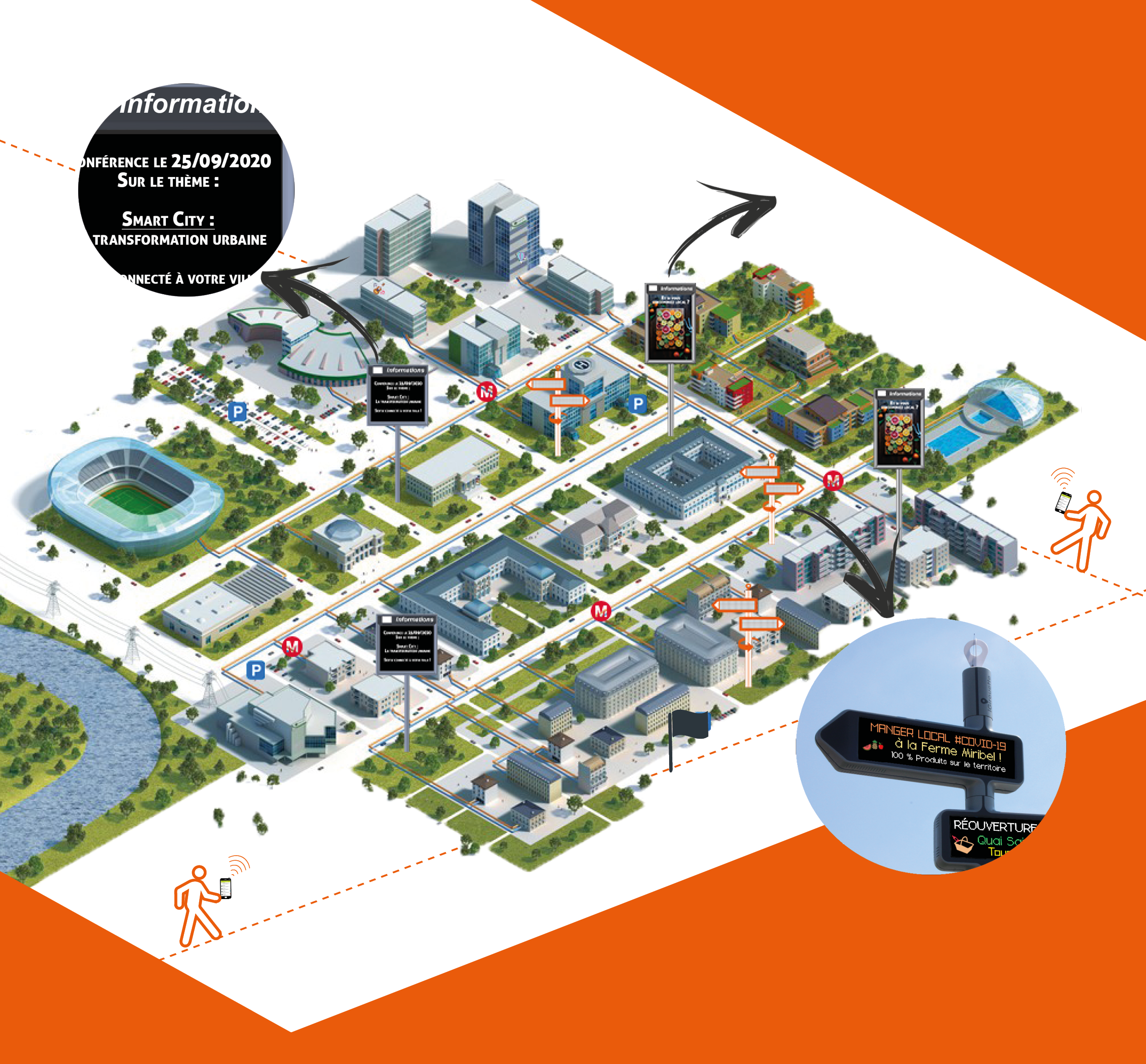 We are doing everything to make your city a Smart City tomorrow!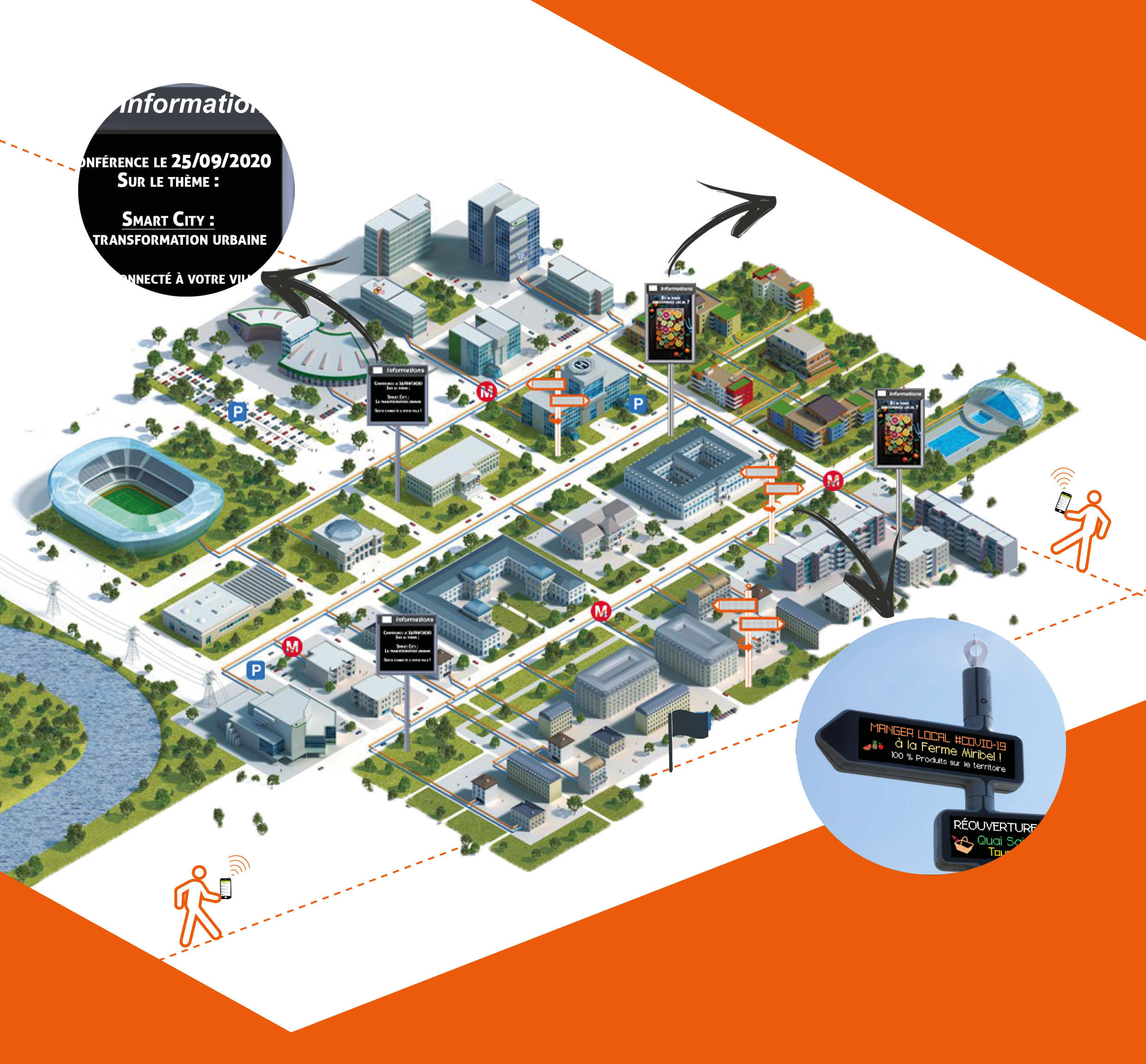 What is SMART CITY?
The concept of a smart city is defined as improving the lives of citizens. This involves a city that relies on an efficient and adaptable ecosystem in the face of the constant evolution of technological innovations and increasingly impacting challenges in our society.
The smart city brings together several areas of city management: public infrastructure (buildings, urban furniture, home automation, etc.), networks (water, electricity, gas, telecoms); transport or also called smart mobility (public transport, smart roads, and cars, carpooling, so-called soft mobility – by bike, on foot, etc.); e-services and e-administrations.
This smart city concept creates the city of tomorrow: a smart, innovative, sustainable, and lively city. Today it is important to create responsible, social, and societal economic values and encourage innovation in your territories in order to bring added value to your citizens.
Can the iGirouette® meet the challenges and objectives of SMART CITY?
Become a smart city, benefit from an urban digital experience, and embrace a digital approach in public spaces. iGirouette® is a directional sign that indicates all possible transport connections: parking lots, bicycle stations, buses, metros, trams, shuttles, and more… This connected and innovative street furniture meets the objectives and challenges of the smart city:
Smart cities and towns: event information, urban transport, promotion of soft mobility, etc.
Shopping centers and retail parks: advertising and commercial information, customer experience, crowd management, customer experience, etc.
Transport networks (airports, stations, etc.): information and support for passengers, crowd management, etc.
Sports arenas (stadiums, sports centers, Olympic parks, etc.), attractions (amusement parks, theme parks, etc.): event advertising, visitor and spectator experience, crowd management, etc.
Tourist resort (coastal and mountain): information on the event, support for visitors, etc.
Exhibition and congress centers: visitor orientation/exhibitor routes, etc.
University Campuses: orientation for students, visitors, speakers, and event communication
Health establishments: patient, visitor, worker, flow management
Our examples
THE CITY OF CALAIS wanted to bring dynamic communication like the Smart Cities of tomorrow, by directing citizens to the points of interest in the city and finally facilitating travel in the city.
For this, 3 iGirouette® have been installed in the city of Calais. The iGirouette® is now a signage and information relay for residents and tourists; they indicate the museums, monuments, and events organized by the city! This dynamic display of tourism allows the management of people to flow. A real innovation for Calais which is developing a new local dynamic.
LA COTE BELGE wishes to improve the quality of life of its citizens, visitors, and tourists while contributing to local economic development.
This city wanted to become more dynamic thanks to iGirouette®. They indicate the essential sites of the city (Les Zéphyrs museum, beach…) but also the events (concerts, animations, exhibitions…). In addition, the city has chosen to promote certain restaurants, shops and businesses that pay to gain visibility. Middelkerke creates social cohesion, differentiates itself, and thus becomes a Smart City!
SMART MOBILITY in the Smart City
Faced with technological innovation, changes in the transport sector, and developments in communication and information media, we are seeing the term SMART MOBILITY appear. The current population is dense with an increasingly connected population.
There are many areas to work on in order to find relevant solutions. We can now see the primary objectives of SMART MOBILITY:
Operate the entire transport network
Ensuring travel security
Add value to existing mobility services
Ensure accessibility of services
Reduce the environmental impact of transport
Cities must find solutions to respond to different challenges such as the innovation of technologies, the mutation of certain fields, the ecological issue which is gradually becoming a major issue. Citizens expect from their city a real means of mobility and important flow management as much for vehicles, pedestrians, bicycles as buses, or trains.